RAI – Serving Milwaukee, Madison, Green Bay, Appleton, Oshkosh, and All of Wisconsin
Private Investigators located in Delafield, Wisconsin. We handle private investigation cases across all Southeastern, Northeastern, Lake Country, Fox Valley and throughout the whole state of Wisconsin.
Our mission at Ryan Adam Investigations is to provide affordable, reliable, and efficient investigation services for individuals, businesses and attorneys alike. RAI investigators are fully insured and licensed by the state of Wisconsin. We supply professional facts and information in a detailed report so our clients can make informed and smart decisions. Our cases are always handled with the utmost discretion and confidentiality. Our customers' peace of mind is paramount. At RAI, every consultation is free.
Why is RAI unique? What separates you from the other agencies?
Ryan Adam Investigations is a truly unique private detective agency. We don't outsource or subcontract any of our investigations statewide and all phone calls and contact between us and our clients is done exclusively by the president and lead investigator Ryan. This means you will be getting quality service and all of your questions answered immediately. You won't wait overnight, when we say we are 24/7/365 we mean it. We can be almost anywhere in the state within 3 (usually less) hours of a phone call. We are the only agency in the state of Wisconsin (to our knowledge) that has bi-lingual Chinese and Spanish investigators. We offer 100% free consultation in person and phone. Finally, we require monthly and yearly training for all investigators. This keeps everyone fresh, trained and constantly learning.
About Lead Investigator Ryan A. Sanchez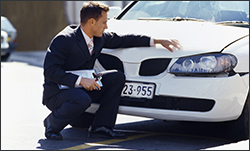 Having traveled the world, I bring a global perspective and resources not seen elsewhere. I have an extensive background in criminal justice, covert surveillance, report writing, and fact finding. I have investigated cases ranging from homicide, child support, doing comprehensive background checks, to finding and serving hard to locate individuals. My commitment to detail, integrity, and having a strong moral compass will be my clients greatest assets. Nobody will work harder to professionally fulfill your specific needs and goals. I understand that every case is different, and every client unique.